Otavalo is a city about 34 miles north of Quito, Ecuador (1 1/2 hour drive due to the mountains country).  On Saturdays, the massive Otavalo market overflows from the Plaza de Ponchos and colorful textiles and crafts fill tents along streets in a third of the city. Otavaleños are famous for their weavings, everything from blankets and bags to sweaters and gloves.
The Otavalo Valley landscape consists of beautiful mountains and valleys, which lies close to 9000 feet above sea level. The Koatacotkie volcano is the dominate land feature near the city, sometimes partially covered in clouds due to its elevation of over 12,000 feet.
One of the highlights of Otavalo is the Saturday market, For hundreds of years, indígenas from at least seventy surrounding villages have brought their crafts and produce down from the hills for a day of frenzied barter and sale here. Nowadays, it draws producers from across Ecuador and Colombia as well.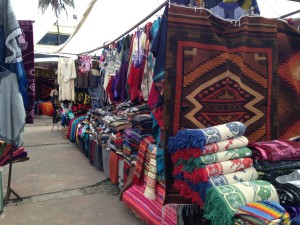 Firstly there is the textile market occupies many blocks of the city center, filled with vendors selling anything from intricate wood carvings to hand made ponchos.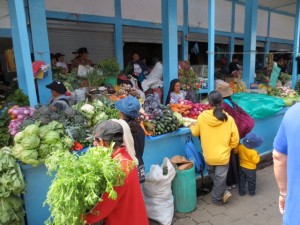 Secondly is the food market in which one can purchase fruit while watching a pig being skinned.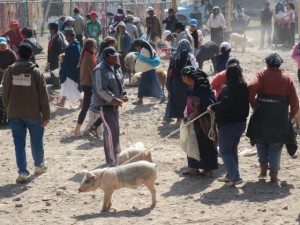 Lastly the animal market occupies a dusty area with every concealable animals for sell… Pigs to ginney pigs.
Although much of the business is still local – including an animal market that's as authentic as they come – substantial sections of the market are devoted to the textiles, with a boggling range of carvings, clothing, craftwork, musical instruments, ceramics and souvenirs. It's most famous, though, for its weavings, sold mainly at the Plaza de Ponchos in the heart of the tourist zone, a dizzying labyrinth of colourful hanging tapestries and garments. During the week, Otavalo has a quiet provincial air, but walks to the nearby lakes, mountains or weaving villages are more than enough to keep you busy here for days.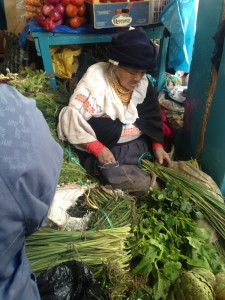 Otavaleños are famous for their weavings, everything from blankets and bags to sweaters and gloves, and the merchants are extremely friendly and not pushy.
Aside from the wonders of the market, the numerous haciendas are a great place to stop for lunch. 
Hacienda Cusin is a lovely hacienda with a 400 year history with only 25 room accomodations. The restaurant services delicious local cusine.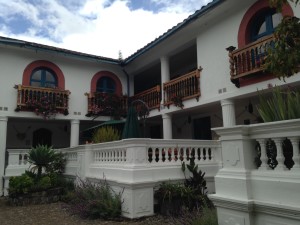 The luxury "La Mirage Garden Hotel & Spa is a hidden gem.
Less than three hours from Quito, the hotel is mixed with the native flavor of the Andes. Most of the accommodations include a fireplace and sitting area and have a beautiful view of the surrounding mountains and gardens. This former hacienda is a paradise of plant life filled with a thousand fragrances from its bougainvilleas, hibiscus, roses and orchids that you will also find in freshly cut bouquets in your room or suite. The Spa offers many treatments, including the healing powers of a female shaman. La Mirage is distinctive for its eleganance and impeccable serivce.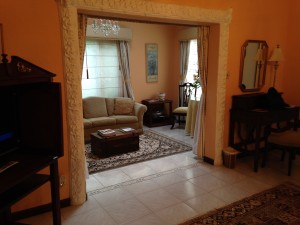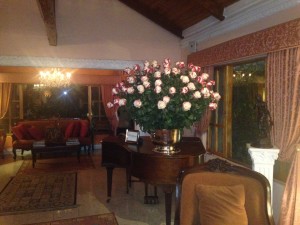 The town of Cotacachi is a small traditonal town within easy walking from La Mirage Hacienda. The town is well known for its leather goods. Artisan shops line the main street and you can buy any type of leather item, from shoes, boots and jackets to coin purses, bags, and suitcases…even upholstered furniture. Prices for all these items are 50% to 75% less than you would pay in the U.S.
 At night the artisan shops close up and only a few restaurants and small mom-and-pop shops are open. On the corners, you may find families congregating around a hot grill, where ears of corn are roasting along with pork and chicken kabobs. The cool, crisp air smells faintly of wood smoke, roasting corn, and eucalyptus. Eucalyptus trees grow abundantly wild, as do palm trees.