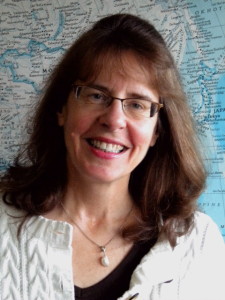 Erica Hauck has been subject to ever-evolving changes in the travel industry.  The only constant has been her commitment to excellence in providing her clients with the utmost attention to detail thus creating exceptionally memorable vacations.
Growing up in a military family afforded her the opportunity to live abroad at a young age. She lived, studied and worked in Europe. Her passions for exploration lead her to travel extensively throughout most countries in Eastern and Western Europe, the Soviet Union, Asia and the Middle East. From these travels she brings a wealth of knowledge. Erica eagerly updates her clients with many travel tips as she prepares them for their forth coming journeys. As clients embark on their travels they can rest assured, as they will be well equiped with a keen awareness of local customs and traditions and their iteneraries have been prepared with extreme care.
Admiral Travel opened in 1989 on Mercer Island, WA and has remained in the same location ever since.  Erica's many customers continue to refer their family and friends to Admiral Travel for the same great travel planning they experienced. Erica specializes in planning the perfect privately guided chauffeur touring holiday with the most beautiful chateau/resorts stays.
Recent travels include Paris, Munich, Berlin, Viking River Cruises, Fuji, Quito, Galapagos, Oceania Cruises ,Alaska, Celebrity Cruises, Turkey, Tauck Tours, Crystal Cruises, Windstar Cruises, and many others.